Camp Penuel Costa Rica offers a wide variety of short-term mission trip experiences. You can serve as part of a team or as a family, couple, or individually.
May the Lord bless you as you consider a mission trip.
See Calendar
Get started planning your Mission Trip
Check out the Mission Trip Calendar for open dates. Then contact us and let us know when you wish to come to Camp Penuel Costa Rica: how many will be coming; the leader(s); and in what mission work you wish to participate.
We ask for a $500 non-refundable deposit for a group of more than 7 and a $200 non-refundable deposit for a group of 3-7. Once your deposit is received, your group will be added to the Camp calendar. (Your deposit will go towards the $350/person/week cost of staying at the Camp. If your group decides to not come to CPCR, your money will be given to the Camp. We have teams reserving a year in advance, so we ask if you will not be coming, please give us as much notice as possible.)
Cost
Cost for an adult for a week at the Camp is $350 and for a child 5-12 is $250. This needs to be sent at least a month before your trip and includes room, board and transportation to and from the airport.
Several groups have found they create new meaning for their trip by asking friends, relatives, church community to support them on their Camp Penuel Costa Rica trip with prayer and finances. This is like Apostle Paul being sent as a missionary (Acts13:1-3).
Please click in the button below to see our sample letter for how to ask others for their support.
Sample letter (pdf)
Mission Team Member Comment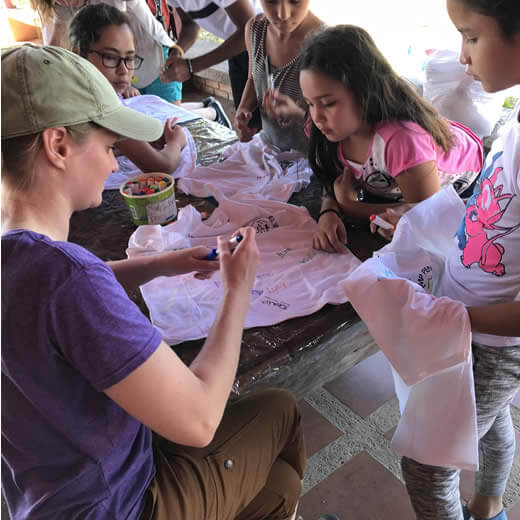 A young girl, Kytzya, made me understand why what we were doing at camp was worthwhile. The night we were saying our goodbyes, she told me that her time at the camp had been so much fun and that the Camp served the best food! She also said this was a time she will never forget and that she will never forget me… Needless to say, I am hoping to go back annually after this experience!
Angie
Lodging
The Mission House,where you will be staying, is about ½ mile from the Camp, either walking or via van. It is a very comfortable Westernized house, with women's and men's dorm rooms AND ...there is a pool in the backyard!!! So fun for the campers and mission groups, too.
Notes:
Please be advised there is NO WIFI at either the Camp or Mission House. Check with your phone carrier about your options, otherwise just enjoy the time away from social media and know your time with the campers, staff, fellow team members and just alone time with God is priceless.
Extra costs above the $350 per week include meals away from the Camp or Mission House and touring or vacation time with your group.
No need to change US dollars into Costa Rican colones since US dollars and credit cards are accepted everywhere, although you may receive change in colones in very small stores.
Please contact us for any question.
Typical Day at Camp
Are you wondering what your days at Camp would look like?
Check out Typical Day at Camp. Keep in mind that flexibility, patience, and prayer is key to any mission trip.
Mission Team Leaders
You are in charge of your team with arranging airfare; collecting $350/person/week (be sure to send to Luann at least a month before your trip); and preparing your team for the mission trip. Also you are in charge of your team during your time in Costa Rica, under the leadership of the camp directors.
With your team, please review and discuss part A (covenant, pre-trip devotions and packing list).
Then each team member must complete part B (sign the covenant and complete the application and mission trip questions). These forms need to be scanned to Mark and Lois, who will forward them to Paul.
Part A- for team discussion
Part B- to be completed by each team member